Segway and Scooters Prague Tour
Would you like to see all the main landmarks, viewpoints, local beauties and historical buildings with futuristic rides such as Segway and E-Scooter? This tour is just for you! You will cover all the main sightseeing points accompanied by your local private guide. Get on your Segway and after 90 min riding switch with E-Scooters, enjoy the history and your ride. Enjoy Your Prague!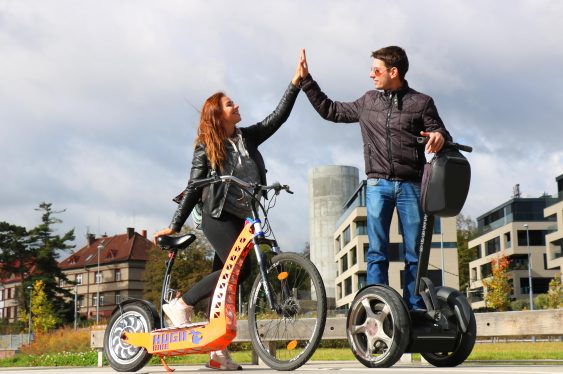 Great tour on Segways and scooters
Starting on Hugo E-scooters you will discover the Old Town (STare Mesto) and Lesser Town (Mala Strana). Drive to the oldest square of Prague, where the famous astronomical clock is. Pass through the number of churches and beautiful Baroque style buildings and reach the Jewish Quarter to see the oldest synagogue in the Central Europe. Take a drive along river and enter one of the biggest parks in Prague, make a stop there to enjoy the marvelous view over the whole city! After these, take a drive to the oldest area of the city – Prague Castle. Enter the area of President Palace and take a walk nearby the powerful St.Vitus Cathedral. Swap Hugo E-scooter to Segway in and continue your tour to the 12th century monastery. Enter the monastery and visit the old library, church and taste the best beer in the city. Drive to the area of old embassies and enter the post-war district, to get deep into the history of the WW2. Pass through the number of statues and buildings, and reach the University campus, to see the faculties of the old Charles University. Further, drive to the park with the modern statues and enter one of the richest areas of the city, called Prague Beverly Hills.
Booking form

---
Any Questions?
Ask us now
We will compose private tour especially for you. Let us know what do you want, we will contact you ASAP (not later than in 12h).