Grand City Tour on Segway and e-Scooter
Combo 4x tour is for those who would like to see all things in short time. Explore all Prague in 4 hours riding Segwey and E-Scooter with local private guide. You will cover The Old Town, Lesser Town and many more; including Administration Center, Prague Castle, Strahov Monastery by Segways and Letna Park, Kampa Island, Jewish Quarter, Old Town Square and so many more on E-Scooters. You will have to taste beer in brewery on this tour!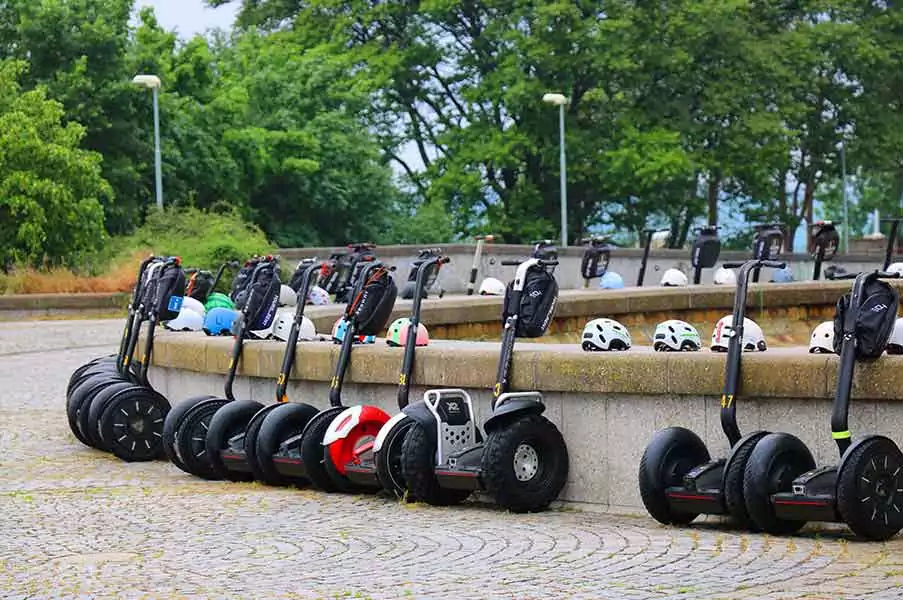 Tour details
4 Hours / 20 km
Private Guided Tour
99 € / 2550 Kč - per person
Departure: Every hour
---
Great if you stay a short time in Prague
Discover whole city in only 4 hours
You will pass all the main sights
Fully custom-tailored tour
Rich with culture and history
Covers all the best viewpoints
GoPro filming (by request)
More than 20 km length!
Booking form

Grand City Tour
Starting in our shop only in 100 meters from the Old Town Square you will go on mini-bus shuttle to the Prague Castle area – legal zone for segway riding. After 10 min of private safety training you will go to the first part of your Grand Tour of Prague adventure on segway. Passing through Prague Beverly hills, Prague Castle, Strakhov monastery your personal Prague guide will tell you 700-year old stories and show you the best spots for making pictures. If you want you can taste a 400-years old beer in one of the oldest monasteries – Strackhov or Brevnov.
After 120 min private segway tour we will change transport for you to electric scooters and you will go down direction to the Lesser Town. By the way you will jump-in Letna Park to catch one of the beautiful views of five bridges in one line. This unique viewpoint is hidden gemstone of Prague. You can not come here on the touristic bus or by a walking tour. After making a pictures there you will see other great viewpoint – all Prague's roofs as on your palm. Here are the best viewpoints of Prague City. Passing through Nerudova Street, John Lennon Wall, Lover's bridge and Old Watermill. Going on Kampa island under the Charles Bridge you can give some bread to swans on Vltava river. From this spot you will find one of the best views to the Charles Bridge. Continue your scooter tour you will see Rudolfinum concert hall, Jewish quarter of Old Prague, go near the oldest synagogue of Europe. Continue your scooter trip you will reach Old Town Square with Jan Gus monument and the Astronomical Clock – one of the main symbols of Prague and Czech Republic.

Traveler Reviews
"Great segway tours!"
We did a segway tour with Prague On Sewgay on July 2017. It was a great experience for me and my family.Attentive and very informative guides, patience stuff, US-made segways (not China-made).We rode on segways 2 hours in the Prague Castle area, on Prague's Beverly Hills and a Strachov Monastery beer was very good. After we change the transport to Hugo E-scooters and continue our 4-hours tour in the Old Town.From now we will look for segways everywhere!
"Great Fun!"
We had a tremendous amount of fun on this tour! By a coincidence of timing, we took this tour rather late in our 5-day visit. We love to walk, and had already visited many of the places on the tour. What a difference taking in the sights by Segway! Climbing the hills is completely effortless, yet you are still out in the air and able to stop and go as you please. The closest equivalent might be touring on a scooter, except that you can go places on the Segway you'd never be able to take the scooter, such as across the grass in a park ("off-roading"). We reviewed in 3 hours many of the sights we spent the first day and a half of our visit seeing. It's still hard to believe how much ground we covered.We booked in advance using their web site and enjoyed excellent communications from the management by email. Everything was ready for us when we arrived at their office. Our tour guide Tom was friendly and knowledgeable, providing a good explanation of what we were seeing and immediate answers to all our questions.One final note. The fact that it was just the two of us on the tour was a real plus. Tom was able to adjust the itinerary on the fly, bypassing a couple of things we'd already seen, lingering at a few places with beautiful views, and taking many photos and videos of us on the Segways. It was a first class private tour!!
"Best Segway Experience in Prague"
I took the Segway tour in prague, and it was an interesting way to see more of Prague outside of the old town specially that the segways are not allowed to drive in the old town anymore. It was fun and very informative. My perfect tour guide took me to different places and gave me plenty of information about prague and places. We stopped in a bar and had coffee as it was very cold at this moment. It was very good experience with amazing guide named Azim, I highly recommend to take a tour with this guy and you will have the best segway experience ever. Thank you Azim for this time.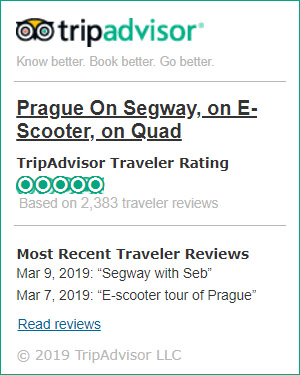 Any Questions?
Ask us now
Providing private tours only we will compose a tour especially for you.
Let us know your preferences and get an unique tailored tour!