Segway Fun Tours are offered outside the Prague Old Town, as the city government has imposed restrictions on the use of Segways since 2016. We offer Segway tours behind Prague Castle including The Castle, Strahov Monastery, Strahov Stadium, Brevnov Monastery area and local Beverly Hills. Depending on the duration of the tour, the number of sights we visit may vary.
In Czechia, a Segway rider is a pedestrian, you ride on the sidewalks, not on the public roads with cars.
If you prefer to discover more Old Town and Viewpoints of Prague, choose our e-Scooter, Fat Tire e-bikes or Trike tours.
One hour Segway tour is a great way to see the part of Prague that is hidden from tourist's eyes. This tour covers parks, famous landmarks as well as historic sights and local spots of interest. You will see the richest neighborhood: Old Stresovice (Beverly Hills of Prague), famous and unique Strahov Monastery with the amazing view on the Old Town where you are welcome to try the legendary and unique beer once brewed by monks.
Two hours Segway Fun tour shows you Prague's royal district, including Prague Castle, Embassy area, Prague's Beverly Hills and many more. You will be amaze by beauty of the biggest ancient castle: Prague Castle, unique panoramic viewpoints with 1001 towers, see the Strahov Stadium (the biggest stadium in the world!) and then taste delicious beer* in Strahov Monastery which is brewing more than 6 centuries with monks' secret recipe and another Prague's wonders and landmarks!
* In 1 hour and 2 hour segway tours beer not included. For beer tasring we suggest to choose Double monastery brewery segway tour
1 hour Segway tour will show you:
Old Streshovice – Prague Beverly Hills
Prague Castle views
The Villa Müller museum
Park Maxe van der Stoela
On 2 hour Segway tour you will find also:
Strahov Monastery
Monastic brewery *
Strahov stadium
Strahov viewpoint
* Depending on how long you stay at the brewery, other attractions could become optional 🙂
Segway Fun experience of Prague
Discover Prague's Beverly Hills
Free segway ride in a safe place
Make great pictures
On winter it's a fun ride too
Kids love it!
Important Information
Departure Point
Maltezske Square 7, Prague 11800
Duration
1h up to 2h + extra 30 min for the transfer and test-drive
Return Details
Returns to original departure point
Inclusions
Live guiding
Safety training (extra time!)
Photo service
Headgears (all the sizes)
Raincoats if needed
Gloves in winter season
Unlimited water, coffee and tea in our office
Exclusions
Drinks during the tour (optional)
Gratuities (optional)
A driver's license is not required
Helmets are mandatory and different helmet sizes are offered
The minimum rider's weight is 30 kg, maximum weight is 150 kg; maximal speed is 18 km/h
Pregnant women and people with epilepsy are not allowed to ride a Segway
The is no minimal age limit to drive a segway
Maximum age to participate in a tour – 69 years
Winter tires are designed to excel in the colder temperatures, slush, snow, and ice
In case of rain, the raincoats are provided free of charge and in cases of extreme weather your tour may be rescheduled or cancelled with a full refund for your safety
If you want to ride with a child of 1-6 years old, we can provide a classic electric bike instead of Segway, with a special child seat (EU certified), this is the only option to take your child on the tour. Maximum weight of the child (including clothing) is 22 kg (48.5 lbs). The child will go free of charge, but please mention it in the "Special requirements" field. The maximal number of such kids in the group – 2.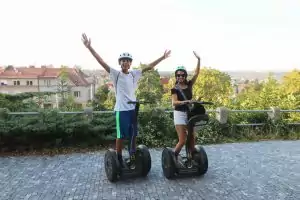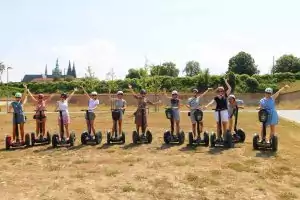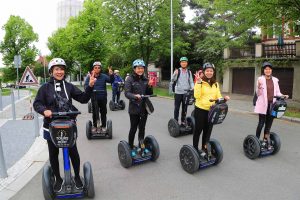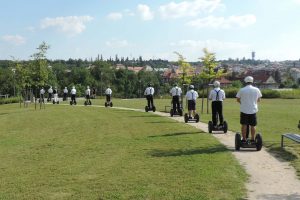 Booking deposit is not required, you can pay on the day of the tour in our office. We trust our guests and hope that you will come on time, and if you change your mind, let us know at least 48 hours in advance. This way you do not deprive others of the opportunity to use the time slot that has become available.
If your tour is pre-payed, for a full refund, cancel at least 48 hours in advance of the start time. For groups of 8+ participants cancellation policy is subject to change and always provided in the proforma invoice.