2 in one: Segway Tour & eScooters Tour
Beginning on electric scooters or Fat tire eBikes by your choice you will go from the Lesser Quarter to the right river bank of Vltava to discover Old Town of Prague. Finding there Astronomical clock, Old Town Square, Jewish Quarter and much more we will cross a bridge and go up easy to the Letna hill. Here you will find the Giant Metronome and… the breathtaking panoramic view to the 5 bridges. After making non-forgettable photos we continue our tour direction to the Prague Castle – the largest castle in the world (according to the Guinness Book of Records).
We will stop our eScooters in front of the Main Gate of the Prague Castle, making pictures and share old stories about. If you want we can go inside the castle, but better save time and continue the tour to see more sights. We will switch to Segway in our second office soon.
Get on the Segway in the Prague Castle neighborhood and after a short training you will drive to the park with the modern statues and enter one of the richest areas of the city, called Prague Beverly Hills. A pretty old-style village near the castle will show you a relaxed area avoiding the crowds.
After Segways continue your tour on E-bikes and E-scooters to the Petrin Hill. Find the Strahov Monastery, see Petrin Tower (Little Eifell) and ride down within the hill with several viewpoints. Reach Lesser Town, leave your signature on Lennon Wall and ride through under Charles Bridge. See statues of Peeing Men and cross the Manes Bridge to reach to Jewish Quarter and Old Town.
3 hour Combo tour will show you:
Before We Start. Meet your experienced guide in our office. We can design your tour according to your taste and wishes.
Lesser Town and Kampa Island. Leave your signature on Lennon Wall, take a photo with Babies Monument. Find peeing statues in the Franz Kafka museum which are made by Czech Artist David Cerny, also make a stop to go on the Charles Bridge.
Jewish Quarter. Riding along riverbank of Vltava, we reach to Rudolfinium (Czech Philharmonic Hall) and pass near the old Jewish cemetery and Staronova Synagogue which is the oldest synagogue of Europe.
Old Town Square. Take a photo of Old Town Square and its surroundings such as Tyn Church, Jan Hus Monument and The Astronomical Clock Tower.
Letna Park, Metronome and The Best Viewpoint. Easy climb up to Letna Hill to see the best view of Prague and the metronome where the biggest Stalin monument was erected in`55 and blew up in `62. Here you will find the best view of Prague – 5 bridges in a row along the Vltava.
Prague Castle. The largest Castle complex has a thousand-year history and currently the house of The President of Czech Republic. Here you can see St. Vitus Cathedral and gardens or watch the guards changing.
Introduction to Segways. Your Segway Tour starts with a short safety training (you will get extra time for it!) and supervised test-drive. When all of you will be confident riding a segway your journey starts.
Old Streshovice – Prague Beverly Hills. Streshovice is the richest neighborhood of Prague and mostly the famous local people (including former Presidents, singers, actors, sportsmen etc.) live here. You will admire the buildings while riding; Muller`s Villa and St. Norbert Church are in this area.
Strahov Monastery. Roman Catholic Monastery built in the 12th century. The Monastery also has a brewery from the 15th century and one of the highest viewpoints of Prague. Here you will have time to taste the monastic beer.
Petrin Hill and Little Eiffel. Climb up to Petrin Hill on e-bikes between two city walls to reach on top of The Hill where the Petrin Tower is (Little Eiffel Tower). You will see amazing viewpoints and natural reserve park on the way down to Lesser Town.
On 4 hour Combo tour you will find also:
Wenceslas square. The second main square of Prague. One of the Must see sights of the city.
Beer gardens on Letna park. Relaxed area on the top of the letna heel with panoramic view to the Old Town.
Park Maxe van der Stoela. Amazing green area to enjoy a segway driving. Seems that this park was made especially for a segway drivers!
Great if you stay a short time in Prague
Discover whole city in only 3-4 hours
Segway & scooter in one tour
History and fun ride
Covers all the best viewpoints
More than 20 km length!
Departure Point
Maltezske Square 7, Prague 11800 Our office is located right next to the Japanese Embassy.
Duration
3 up to 4 hours
Return Details
Return to original point of departure
Inclusions
Live guiding
Safety training
Photo service
Headgears (all the sizes)
Raincoats if needed
Gloves in winter season
Unlimited water, coffee and tea in the office
Exclusions
Food and drinks during the tour (optional)
Gratuities (optional)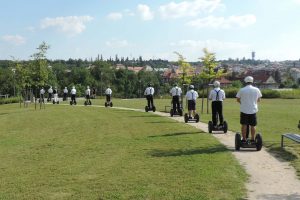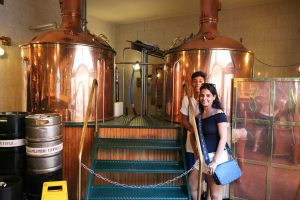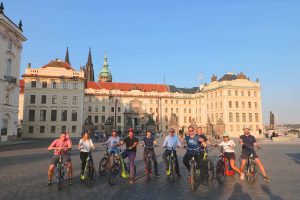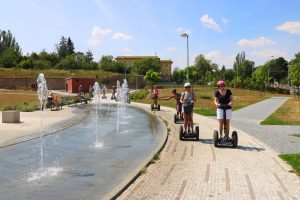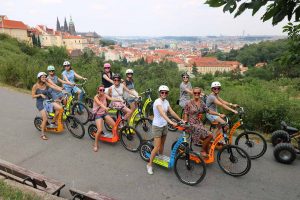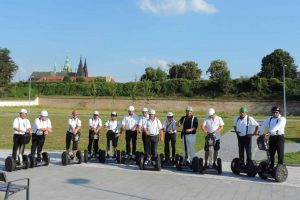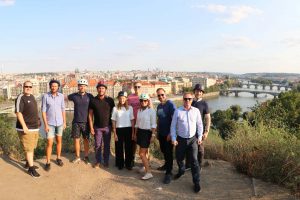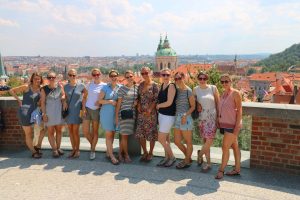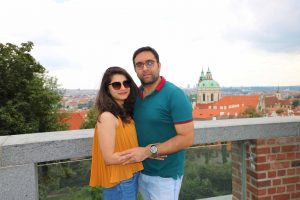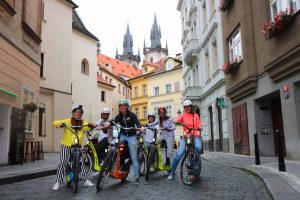 A driver's license is not required
Helmets are mandatory and different helmet sizes are offered
The minimum rider's weight is 30 kg, the maximum payload (weight) may not exceed 140 kg, e-scooters and e-bikes limited in motor power by local law;; maximal segway speed is 18 km/h, maximal e-scooter speed is 25 km/h
Pregnant women and people with epilepsy are not allowed to go on tour
The is no minimal age limit to drive a segway, the driver of e-scooter and e-bike must be at least 10 years old. For underage we can provide a Trike – adult will drive it and the kid will go in the rear seat (yes, it has 2 seats). Please please mention it in the "Special requirements" field.
If you want to ride with a child of 1-6 years old, we can provide a classic electric bike instead, with a special child seat (EU certified), this is the only option to take your child on the tour. Maximum weight of the child (including clothing) is 22 kg (48.5 lbs). This child will go free of charge, but please mention it in the "Special requirements" field. The maximal number of such kids in the group – 2.
Maximum age to participate in a tour – 69 years
In case of rain, the raincoats are provided free of charge and in cases of extreme weather your tour may be rescheduled or cancelled with a full refund for your safety
Winter tires are designed to excel in the colder temperatures, slush, snow, and ice
Booking deposit is not required, you can pay on the day of the tour in our office. We trust our guests and hope that you will come on time, and if you change your mind, let us know at least 48 hours in advance. This way you do not deprive others of the opportunity to use the time slot that has become available.
If your tour is pre-payed, for a full refund, cancel at least 48 hours in advance of the start time. For groups of 8+ participants cancellation policy is subject to change and always provided in the proforma invoice.