Urban Prague Segway tour
Experience Prague from the local's perspective on the Prague Castle area, foreign embassies and university district during your Prague segway tour. You will admire Prague Castle, Strakhov monastery with it's amazing panoramic view to Prague's red roofs, check out amazing architecture of Prague Beverly Hills (Old Střešovice) and other not visible for regular tourists sights and views.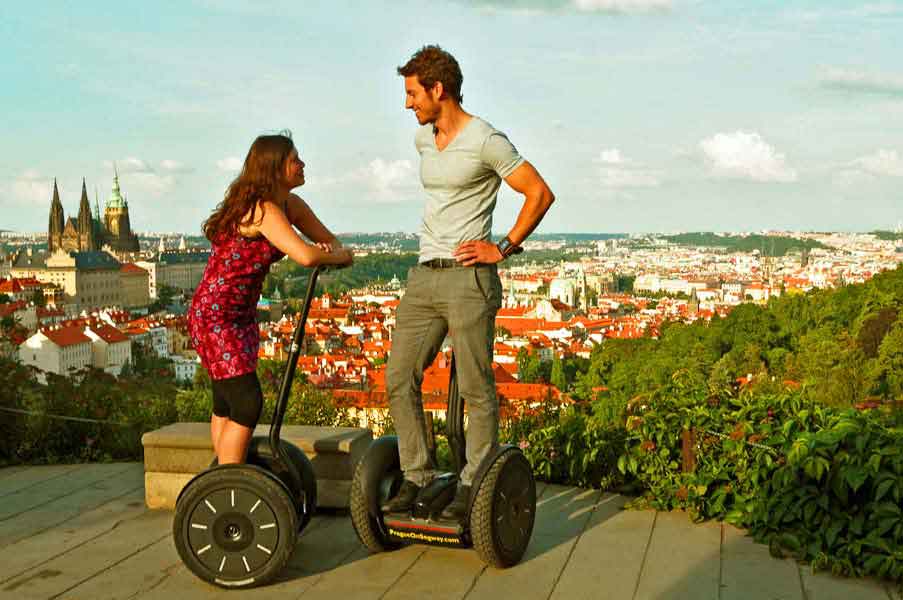 Tour details
3 Hours / 12 km
Private Guided Tour
75 € / 1950 Kč - per person
Departure: Every hour
---
The most popular segway tour in Prague!
Find hidden gemstones of Prague
Avoid the crowds in the city center
Discover the Prague Castle
Enjoy segway ride on the hills and in the parks
Explore Prague Beverly Hills area
Strakhov Monsatery: beer and viewpoint
More than 12 km long
Map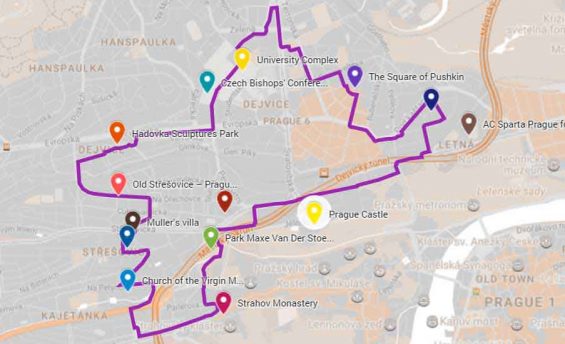 Prague Segway Tour on Dejvice
This Prague Segway Tour is a unique ride experience combines with the history. You will cover famous landmarks, views and fascinating hangout spots with your private local guide. Our first stop is Prague Castle. You will see here St. Vitus Cathedral, Royal Guards, Gardens and more. After that, we will continue to ride through Embassy Area, University District (which founded in 16th century), Hadovka Park (with modern art sculptures), Beverly Hills of Prague and many more amazing points, landmarks and views. Last stop will be Strakhov Monastery where monks were brewing beer more than 600 years with secret recipe. Here you can have five kinds of special unique beer or taste local cuisine.

Traveler Reviews
"Grande tour of Prague"
Without a doubt, the best guided tour I have done anywhere! My mom was visiting Prague for only a weekend and had never been here before. It was a great way to see the whole city. Ellie was our tour guide and she is the reason we had such a good time! She was energetic and informative. Couldn\'t have asked for a better guide. I have been living in Prague for 2 months, but she showed and taught me so many new things! I strongly recommend this tour for anyone visiting, or living in Prague!
"Great Segway tour especially designed for us."
Last month we visited Prague as a part of our honeymoon. Because there was a public transport strike the first day we had to do the city centre in one day.That's why we wanted to do a Segway trip.We booked the trip at Prague On Segway because there 3 hour trip with personal guide was cheaper than the others we found on the internet and they give the possibility to design your own tour.Our guide was Michael. A friendly young man with a funny beard ;-). We explained to him that we only had one day and wanted to see the some of the highlights of Prague, but that we also wanted to see some of the parts of Prague where not all the other tourist will be and that we would like to make some nice pictures.So Michael designed us a tour trough Prague, but also over the hills behind Prague from where we made some amazing pictures of the city from above.A nice extra was the gate full of locks he showed us. You can write a message on a lock and then lock it on the gate, throw the key in to the water and leave the lock for ever. It's especially for lover who write their names on a lock and leave it there,Because it was our honeymoon it was a nice surprice that Michael brought us a lock and a pencil so we could "lock Prague in our hearts forever". At the end we were very happy that we chose this tour with Prague On Segway. Our guide was great, Prague is beautiful and riding a Segway is great fun!
"Best Segway Experience in Prague"
I took the Segway tour in prague, and it was an interesting way to see more of Prague outside of the old town specially that the segways are not allowed to drive in the old town anymore. It was fun and very informative. My perfect tour guide took me to different places and gave me plenty of information about prague and places. We stopped in a bar and had coffee as it was very cold at this moment. It was very good experience with amazing guide named Azim, I highly recommend to take a tour with this guy and you will have the best segway experience ever. Thank you Azim for this time.
Booking form

---
Any Questions?
Ask us now
We will compose private tour especially for you. Let us know what do you want, we will contact you ASAP (not later than in 12h).