Fun & Beer segway tour
Explore Prague's royal district, including Prague Castle, Embassy area, University district, Prague's Beverly Hills and many more. You will be amaze by beauty of the biggest ancient castle: Prague Castle, unique panoramic viewpoints with 1001 towers, taste delicious beer in Strakhov Monastery which is brewing more than 6 centuries with monks' secret recipe and another Prague's wonders and landmarks!
Tour details
2 Hours / 10 km
Private Guided Tour
58 € / 1500 Kč - per person
Departure: Every hour
---
Discover Castle area in 2 hours
Pass through Prague Beverly Hills
Take great photos
Enjoy segway fun Prague ride
Taste the monastery's beer
Great for corporate events
Kids love it too!
Budget friendly
Booking form

Customize your trip with us
Our amazing tour on Segway through the magnificent Prague Castle and fascinating Monastery covers more than 9 km ride in total (more than 5 miles). It combines the fun sliting of the city and full of historical information about the most important places in the most prestigious district of Prague. Explore the administration area and get to see the famous landmarks, as well as fabulous panoramic views. Feel the local atmosphere with your professional tour guide and learn more about the culture of the Czech Republic. Visit the largest ancient complex in the world – Prague Castle and take a picture in front of the jewelry of gothic architecture St. Vitus Cathedral. Pass the nearest locality full of different ministries and embassies. Enter to the local "Beverly Hills" with picturesque lanes and climb up to the Strahov Monastery where you can taste the best beer with the recipe of more than in 6 centuries. Enjoy this unforgettable journey with your friends and family and let us provide for you the tour you deserve!

Traveler Reviews
"Don't think, just do it"
Had a lot of fun. Our guide Anna was like an encyclopaedia. And the fact that it was just 2 of us and the guide made it feel special. No large group, just you. For lazy people like me, it's a win win. No walking, and history lesson without having to read.
"Beatiful Prague on sagways with amazing guide"
It was very good experience with amazing guide named Caesar. Everybody should do it, best way to see Prague!
"Amazing Private tour of Prague"
Never taken a tour on a Segway before, and I must say, I'll probably do it everywhere I go. Of course, you need a perfect day, sun shining and a great guide, which we were fortunate to have. Yuri was an energetic fun young guide, giving his own views and history on Prague whilst we were riding. He took us to all the main spots outside of Praha 1 because of the Segway Ban. But this didn't affect our mood at all, as we could see parts of Prague that otherwise would take much longer. Prague Castle, University area, Monastery, Brewery and many other areas.Riding the Segway for the first time also was great experience and it was pretty simple after riding for the first few moments. Our afternoon was spent well and got great views of Prague.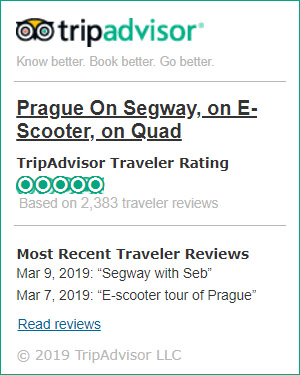 Any Questions?
Ask us now
Providing private tours only we will compose a tour especially for you.
Let us know your preferences and get an unique tailored tour!