Private Viewpoint Tour in Prague on e-scooters
Experience Prague from the local's perspective on our most popular Prague Scooter Tour. You will admire Prague's greatest historical sights, cruise on your e-scooter through some of the best parks and hills and enjoy breathtaking panoramic views. Getting to know Prague has never been easier as you would never be able to see so much of the city on foot.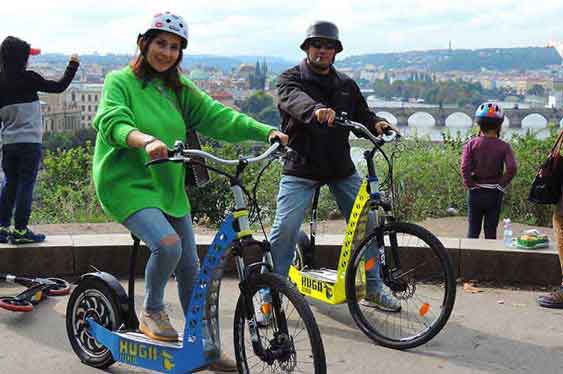 Tour details
3 Hours / 13 km
Private Guided Tour
75 € / 1950 Kč - per person
Departure: Every hour
---
Our most popular tour!
Great overview of the city
The best option on first day in Prague
Avoid the crowds in the Old Town area
Enjoy e-scooter on the hills
Ride in the Letna park
All the best views in 180 min only
More than 13 km long!
Map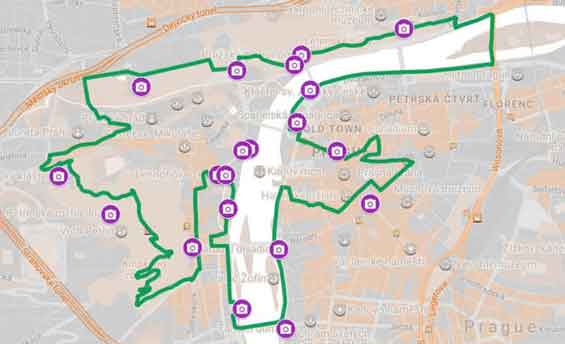 Viewpoint Scooter Tour in Prague
Riding electric scooter with your personal guide you will find all the main viewpoints of Prague, beautiful parks and the best view of Prague bridges form the Letna Park Metronome point, Lesser Town view, Prague Castle (South Gardens), Strahov Monastery Viewpoint, Petrin Hill, Kampa Park and Vltava River, Dancing House, Charles Bridge and many more.
This route is an extended "classic" segway viewpoint tour as it was before the segway ban in the Old Town. We did add to that route extra points to give more Prague experience for our guests. You will see Prague from different perspectives and fall in love with it! You will make fascinating photos and unforgettable memories with this unique experience.
It could be romantic tour of Prague also as corporate event or a team building activity. That tour is ideal choice if you coming to Prague for two days and want to find sights and view points accompanied by a personal guide not loosing your time walking or going by public transport.

Traveler Reviews
"Best Segway Experience in Prague"
I took the Segway tour in prague, and it was an interesting way to see more of Prague outside of the old town specially that the segways are not allowed to drive in the old town anymore. It was fun and very informative. My perfect tour guide took me to different places and gave me plenty of information about prague and places. We stopped in a bar and had coffee as it was very cold at this moment. It was very good experience with amazing guide named Azim, I highly recommend to take a tour with this guy and you will have the best segway experience ever. Thank you Azim for this time.
"Brilliant!!!"
We booked the 2 hour segway tour for a group of 14. Caeser was a brilliant guide - he was fun and had good knowledge of Prague . The tour ran over a little as he wanted to make sure we saw the important stuff and he also gave us some time at the end to race etc in the park. We had two guides as it was a large group and he took photos and videos throughout the tour and emailed them all over to us after which was great! Thank you guys for a wicked time! From, Billy's Birthday Group
"Scooter and segway tour"
Friendly and informative. Caesar was happy to work around our familyand adjust the tour to suit our needs and interests. The tour wascomprehensive and he answered all our questions easily. Heinteracted wonderfully with our teenage children keeping them engagedand showed genuine interest in them. We all loved the scooters and segways, were given instruction on how to use them and felt safe at all times. Great tour, highly recommend.Caesar as a guide.
Booking form

---
Any Questions?
Ask us now
We will compose private tour especially for you. Let us know what do you want, we will contact you ASAP (not later than in 12h).