Grand Tour Citadino em Segway e e-Scooter
O nosso Combo 4x tour é para aqueles que não podem perder tempo e querem ver tudo o que a cidade tem para oferecer. Explore Praga em apenas 4 horas Segway e e-Scooter com um guia local privado. O percurso cobre a Cidade Velha, a Cidade Pequena e muito mais: o centro administrativo, o castelo de Praga e o mosteiro Strahov (onde pode provar a sua cerveja conventual), tudo em Segway e logo depois o parque Letna, a ilha de Kampa, o Bairro Judío, até chegar à Praça da Cidade Velha em e-Scooter HUGO. Super completo!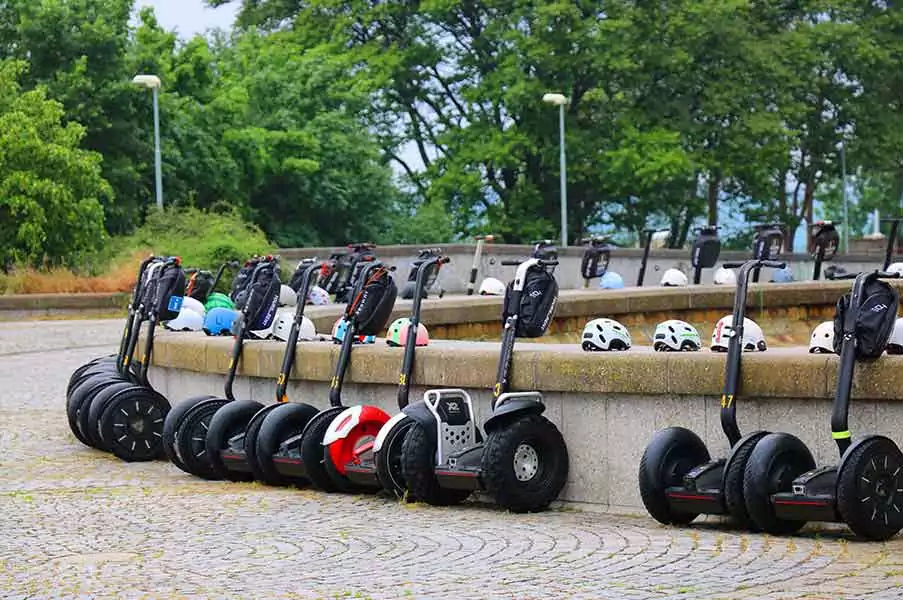 Detalhes da tour
4 Horas / 20 km
Visita Guiada Privada
99 € / 2550 Kč - por pessoa
Partida: Qualquer hora
---
Perfeito se passa pouco tempo em Praga
Descubra toda a cidade em apenas 4 horas
Visite todos os locais históricos
Completamente personalizável
Rico em história e cultura
Percorra os melhores miradoros
Serviço video com GoPro (a pedido)
Percorra mais de 20km!
Grand Tour Citadino
Desde o ponto de partida na nossa loja (apenas a 100 metros da Praça da Cidade Velha) providenciamos um pequeno trajecto de mini-bus até ao castelo de Praga – o início das zonas que permitem a condução de Segway. After 10 min of private safety training you will go to the first part of your Grand Tour of Prague adventure on segway. Passing through Prague Beverly hills, Prague Castle, Strakhov monastery your personal Prague guide will tell you 700-year old stories and show you the best spots for making pictures. If you want you can taste a 400-years old beer in one of the oldest monasteries – Strackhov or Brevnov.
After 120 min private segway tour we will change transport for you to electric scooters and you will go down direction to the Lesser Town. By the way you will jump-in Letna Park to catch one of the beautiful views of five bridges in one line. This unique viewpoint is hidden gemstone of Prague. You can not come here on the touristic bus or by a walking tour. After making a pictures there you will see other great viewpoint – all Prague's roofs as on your palm. Here are the best viewpoints of Prague City. Passing through Nerudova Street, John Lennon Wall, Lover's bridge and Old Watermill. Going on Kampa island under the Charles Bridge you can give some bread to swans on Vltava river. From this spot you will find one of the best views to the Charles Bridge. Continue your scooter tour you will see Rudolfinum concert hall, Jewish quarter of Old Prague, go near the oldest synagogue of Europe. Continue your scooter trip you will reach Old Town Square with Jan Gus monument and the Astronomical Clock – one of the main symbols of Prague and Czech Republic.

Traveler Reviews
"Excelente passeio"
Acertamos os detalhes do passeio com a Kara. Próximo ao horário, ela nos avisou que a previsão do tempo indicava chuva e perguntou se gostaríamos de reagendar.Muito atenciosos e tudo muito prático, tudo por WhatsApp. Fizemos um passeio muito agradável. Como já havíamos andado de Segway outras vezes, nossa simpática guia Zlata "testou nossas habilidades" pela cidade. Recomendo com 5 estrelas!
"Prague é imperdível "
Já estive em Praga por três vezes, e sempre tem coisas que não vi das outras vezes. Dessa vez eu e meu filho alugamos 2 segway acompanhados de uma guia local e visitamos todos os pontos estratégicos da cidade, dai decidimos os quais iriamos visitar. Foram 2 horas de muita diversão e muita beleza.
"Diferente e sensacional"
Melhor maneira de conhecer Praga se divertindo e com um guia para facilitar a orientação!Nosso passeio foi cedinho e super produtivo!!Bela dica,não deixe de fazer.
Formulário de inscrição

Alguma questão?
Pergunte-nos já
Providing private tours only we will compose a tour especially for you.
Let us know your preferences and get an unique tailored tour!