Prag bei Nacht
Prag hat eine besondere Atmosphäre während der Nacht. Sie können sich fast vorstellen Franz Kafka auf seinem Heimweg zu treffen. Sie werden die Tagesmassen vermeiden und Fantastische Nachtfotos machen. Wenn Sie etwas Geheimnisvolles mögen (einschließlich historischer Gaslaternen) und eine Stadt bei Nacht, ist diese Tour die beste Wahl.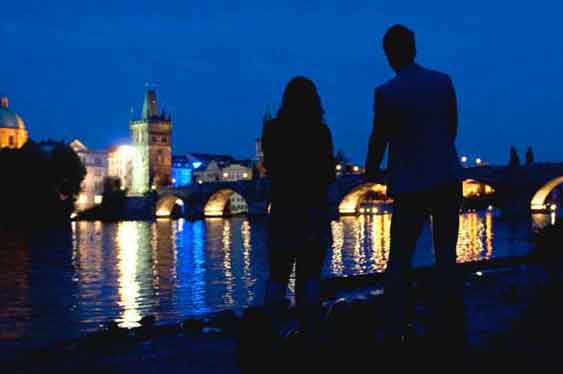 Tourdetails
2 Std / 8 km
Privat geführte Tour
58 € / 1500 Kč - pro Person
Abfahrt: 19:00
---
Erleben Sie die geheimnisvolle Prager Atmosphäre
Treffen Sie einen Sonnenuntergang auf dem besten Aussichtspunkt
Tolle Abend Fotomotive
Romantische Wahl
Das Beste im Frühjahr / Sommer
Für Nachtfahrer auch
Finden Sie Prager Nacht Aussichtspunkte
Budget freundlich
Buchungsformular

Prag bei Nacht
Prague By Night Tour – magic scooter tour discovering Prague viewpoints on the sunset time and seeing first lights of the city.
Departure times may vary of the season (Summer 20:00-22:00, Autumn/ Spring 18:00-19:00, Winter 17:00). We will contact you after the booking and offer possibilities: sunset tour or dark time ride.
Before the segway ban in Prague – in the Old Town and the Lesser Town – we provided this night tour on segway. Now we do scooter night tour going by the same route, climbing up to the hill to reach the best viewpoints to see the sunset and amazing Prague views..
If you prefer night segway tour or sunset segway Prague canyon ride – just choose a flexible tour option and we will make special route especially for you.

Traveler Reviews
"Vielen Dank!"
Mein Mann wünschte sich schon lange, dass er einmal mit einem Segway eine Stadt erkunden kann. Ich bin so unsicher auf Zweirädern, dass ich noch nicht einmal mit einem Fahrrad fahre. Dann habe ich mich durchgerungen - falls es nicht geht, muss mein Mann alleine gehen. Und dann hatten wir das Glück, auf Max zu treffen. Er hat mich und meine Ängste ernst genommen. In heiklen Situationen hat er mich gehalten. Und wir hatten eine wunderbare Zeit. Der Ausblick auf Petrin und die Altstadt war - touristisch - schön. Die Fahrt durch Beverly Hills war für uns als Architekturliebhaber etwas ganz Besonderes. Vielen Dank für die tolle Zeit!
"Great Segway / E-scooter Tour"
Tolle Tour mit Marek; fantastischer Service von Tigran, der für unsere Gruppe noch die Tickets für den Fussballmatch buchte
"Fantastische Geburtstagstour mit Daniel"
Wir haben eine 4h Tour mit Segway und Hugo-Scooter gemacht. Daniel war unser sehr freundlicher & angenehmer Guide - nebenbei hat er noch die Fotos auf unserer Tour gemacht (super! Danke dafür!).Wir wurden zu Beginn sehr freundlich empfangen und der Ablauf wurde sehr flexibel mit Vladimir (Eigentümer) abgesprochen. Dann ging es zum Startpunkt per Shuttle. Kurze Einweisung, dann ging es los. Mit dem Segway durch die Aussenbezirke/Klöster inkl. jeweils kurzem Brauerei-Stopp. Es hat unglaublich Spass gemacht. Nach 2 Stunden wurde auf Hugo-Scooter gewechselt und es ging durch Parks in die Altstadt.Insgesamt hat uns der Segway-Teil am meisten Spass bereitet. Die beiden Klöster sollte man sich angesehen haben. Gerne wieder!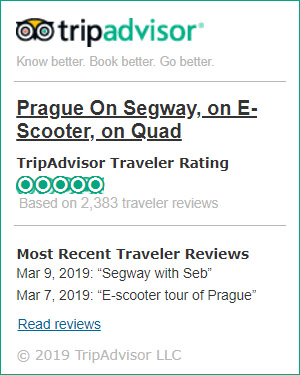 Any Questions?
Ask us now
Providing private tours only we will compose a tour especially for you.
Let us know your preferences and get an unique tailored tour!